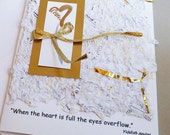 The card begins with a stylized painting of two gold and Silver heart flowers embellished with gold ribbon.
That is mounted on gold and silver card stock that is then placed on hand made recycled paper made by from recycled computer paper and gold confetti.
The quote "When the heart is full the eyes overflows." is printed on 80lb card stock with my logo on back and placed in a...
Click Here to Visit My Etsy Shop!