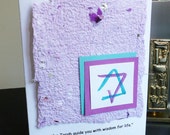 This design and quote would make a wonderful Bar or Bat Mitzvah invitaion.
.
"May the Torah guide you with wisdom for life."
The card begins with a stylized painting of a Star of David.
That is mounted on contrasting card stock that is then placed on hand made recycled paper made by me.
The A2 size card is printed on 80lb card stock with my logo on back and place...
Click Here to Visit My Etsy Shop!