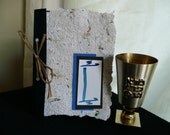 I have created this stylized painting of a Torah for my Bar and Bat Mitzvah Cards and Invitations. This one is hand painted in blue and mounted on card stock.
This is then placed on handmade paper made by me using 100% office, notebook, printer and other waste papers that I have collected and recycled myself. I also add Star of David confetti to the paper.
The inside has the print...
Click Here to Visit My Etsy Shop!