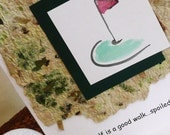 The card begins with a stylized painting of a golf hole
That is mounted on contrasting card stock that is then placed on handmade recycled paper made by me using computer paper, dried flowers and leaves. and scrap paper.
The quote "Golf is a good walk...spoiled." is printed on 80lb cardstock that is folded to 4"x 5 1/2" (A2) size. The card is blank on the inside and comes ...
Click Here to Visit My Etsy Shop!